Kenan Yavuz Ethnography Museum is experiencing busy days.
23 July 2021
Posted by:

Muze Yonetimi

Categories:

Basında Biz, Duyurular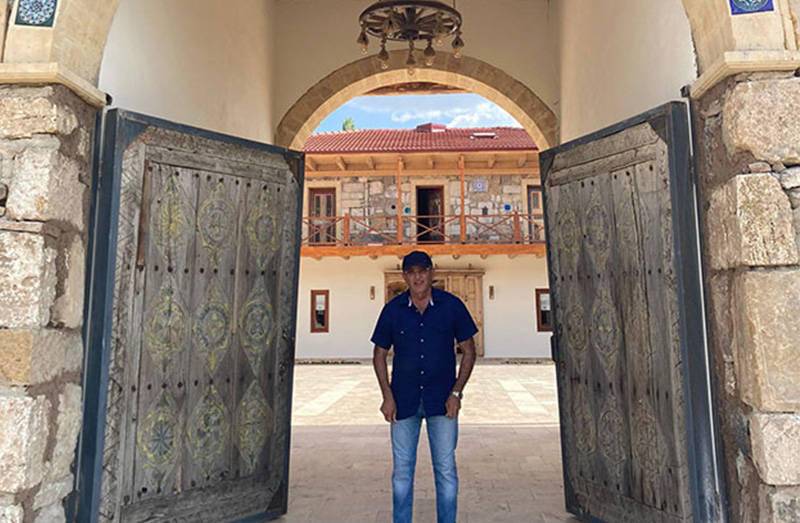 https://www.bayburtpostasi.com.tr/kultur-sanat/kenan-yavuz-etnografya-muzesi-yogun-gunler-yasiyor-h20412.html
Kenan Yavuz Ethnography Museum, which won the 2021 European Museum Award to Bayburt, is experiencing busy days.
Kenan Yavuz Ethnography Museum, which was flooded with visitors after the opening of Loru Han, the accommodation facility incorporated into the museum, offers important privileges in terms of culture and experience tourism. Kenan Yavuz, the founder of the museum, stated that they had busy days as of the beginning of July and stated that they took reservations from loruhan.com and that breakfast and dinner services were also available at the museum. Noting that the number of visitors exceeded 100 on weekdays and 300 on weekends, Yavuz said that Loru Han was appreciated by its architecture. Expressing that they built only 10 rooms on a large 5 decare land with multiple cultural experiences, Yavuz stated that their aim is only to revive cultural tourism, and that what they think for Loru Han is to ensure its own sustainability without commercial concerns.
Expressing that they claim to be the best in Turkey in culture and experience tourism, Yavuz noted that they provide visitors to the museum with experiences such as historical fountain tours in Otlukbeli and Akyaka, horse-drawn carriage tours, burning tandoori, and outdoor movie shows. "We need to harmonize the quality of service with each other" Saying that culture and experience tourism is the new trend of the world after the pandemic and stating that people prefer a life intertwined with nature, nature and people, Yavuz underlined the need to connect historical and tourism points throughout Bayburt. Saying, "We need to harmonize the service quality in all of them," Yavuz said, "A high service quality at a single point does not make much sense over time.
Instead, we have to physically connect all sides in Yakup Abdal village, Demirözü Dam, Aydıntepe, Bayburt Castle and the Baksı Museum on the opposite side, while keeping the quality of service high. There are hundreds of photo spots, Loru Han' Pointing out that the city has a unique structure and that such a structure has not been built in the last 150 years, Yavuz reminded that in the new trend tourism understanding, "If people are taking pictures at one point, your job is right", reminding that the traditional structure and the characteristics of Seljuk architecture, Loru Han, who preserves the characteristics of the Seljuk architecture, is also present throughout the museum. He stated that hundreds of photo spots were created.
Pointing out that they signed a cooperation protocol with Bayburt University and that they provided training on food safety, hygiene, and service quality to the employees, Yavuz stated that there are 19 employees in the museum, that they buy all of the geographically marked Bayburt products on the menu, and that their goal is to become an accommodation facility where reservations are made 1 year in advance. underlined that. Osman Oruç: "This is what Aytmatov does with his novels…" Osman Oruç, a lecturer from the Department of Turkish Language and Literature at Bayburt University, who visited the museum, reminded Cahit Zarifoğlu's lines 'We couldn't love museums', and said that places such as Kenan Yavuz Ethnography Museum offer museums to Anatolian people. He stated that there are approaches that will be liked. Oruç said that the Kenan Yavuz Ethnography Museum preserves the cultural memory and that memory is an important element that establishes the personality and personality of individuals and societies. stated that they provide Oruç added that he is grateful to Kenan Yavuz and Hüsamettin Koçan as a native of Bayburt. A citizen named Gülay Bayram said, "Those who have lived in the past, everything has been explained in this place. We liked it very much. I would like to thank the gentleman Kenan Yavuz."