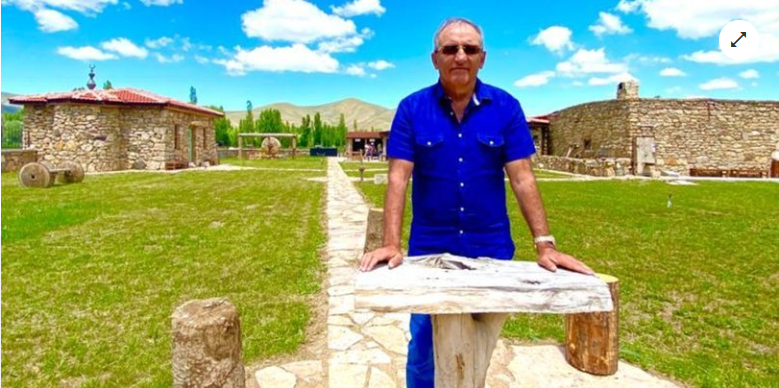 Kenan Yavuz Ethnography Museum Founder – Kenan Yavuz Culture Foundation President – ​​İrfan Group Companies Chairman of the Board
Kenan YAVUZ Biography
Kenan Yavuz, was born in 1959 in Bayburt, he graduated from Ankara Economic and Commercial Sciences Academy, Department of Business Administration in 1981. He completed his master's degree at Istanbul University, Faculty of Business Administration, Institute of Business Economics
Kenan Yavuz, who started his career as a professional manager in the private sector in 1985, took charge in different disciplines and served as a senior manager until 2004. Yavuz completed his second master's degree at Yeditepe University between 1998-2000 with the study "Total Quality in the Socio-Cultural Structure of Turkish Society",he was appointed as a Member of the Board of Petkim Petrokimya Holding in March 2004 and as Petkim General Manager in May 2004. He managed the privatization process and completed it in 2008 as the longest serving general manager of one of Turkey's most important strategic companies Petkim Petrokimya Holding. He continued his duty as Petkim General Manager after the privatization upon the request of the Azerbaijan State Oil Company SOCAR, which bought Petkim.
In 2009, within the framework of SOCAR's decision to expand its activities in Turkey, he was appointed as the President/CEO of SOCAR Turkey Enerji AŞ, which was decided to be established.
Since 2009, SOCAR Türkiye Energy A.Ş. He founded and managed STAR Refinery, Petlim Limancılık, SOCAR Power Energy Investments and Distribution companies. Kenan Yavuz served as the President (CEO) of SOCAR Turkey Energy A.Ş., which has become the largest industrial investor in the history of Turkey's economy based on the integration of Refinery-Petrochemistry-Energy-Logistics-Distribution, until March 2016.
During his professional senior management period, he led the real sector investments of 20 billion dollars in Petkim, Star Refinery, Tanap, Petlim Liman, Socar Energy and Distribution projects.
He served as a Board Member of the Aegean Region Chamber of Industry (EBSO) between 2008 and 2011, he is a Member of the Board of DEİK/Turkish Italian Business Council and the Deputy Chairman of URAK International Competition Research Association.
In August 2015, Kenan Yavuz was honored by President of the Republic of Azerbaijan Ilham Aliyev for his successful work in the STAR Refinery, TANAP Natural Gas Pipeline, Petlim Port, Energy and Petrochemical Investments, which were realized within the scope of SOCAR under the strategic partnership of Turkey and Azerbaijan, and his outstanding efforts in realizing the concept of "two states, one nation". He was rewarded with the " LEAVE MEDAL ".
After his professional life, he started his own business. Producing original parts for the Automotive Industry, İrfan Plastik ve Kalıp Sanayi ve Tic. A.Ş, Ezgert Turizm A.Ş. for museum and hotel management in the Tourism Sector. He is the Chairman of the Board of Directors of İrfan Group Companies, one of Yavuz Management Solutions and İrfan Gayrimenkul companies for Management Consultancy activities.
The "Culture House" project, which he started in 2012 as a social responsibility project in order to pay his debt of loyalty to the land where he was born and grew up, started to operate as Kenan Yavuz Ethnography Museum in the process. The Ethnography Museum, which consists of 26 different venues on an area of ​​15 thousand square meters in Bayburt Province, Demirözü District, Beşpınar Village, under the roof of the Kenan Yavuz Cultural Foundation, which he founded, was given the "Museum of the Year in Europe" award  in 2021 by the European Museum Forum (EMF/EMYA) and won the European Union Cultural Heritage Europa Nostra awards in 2022, becoming the first museum and institution to have the world's two most important awards in its field. On 24 January 2023 he received "2022 Ministry of Culture and Tourism Special Award"  by President Recep Tayyip Erdoğan at a ceremony held in Ankara. He carried out pioneering work in culture and experience tourism with the "Loru Han", which he built as a museum hotel within the Kenan Yavuz Ethnography Museum. In order to transfer the ancient culture of Anatolia to future generations, he made a documentary film titled "A Story of Ownership".
Kenan Yavuz Ethnography Museum, which grows and expands its activities day by day with the mottos What Comes to Us Lives us, Return to the Roots, Museum thats lives and keeps alive, hosted hundreds of thousands of visitors from Turkey and abroad.