Aunt Alime, who invited President Erdogan to her home, said: 'I will come at your command'
27 January 2023
Posted by:

Muze Yonetimi

Categories:

Basında Biz, Duyurular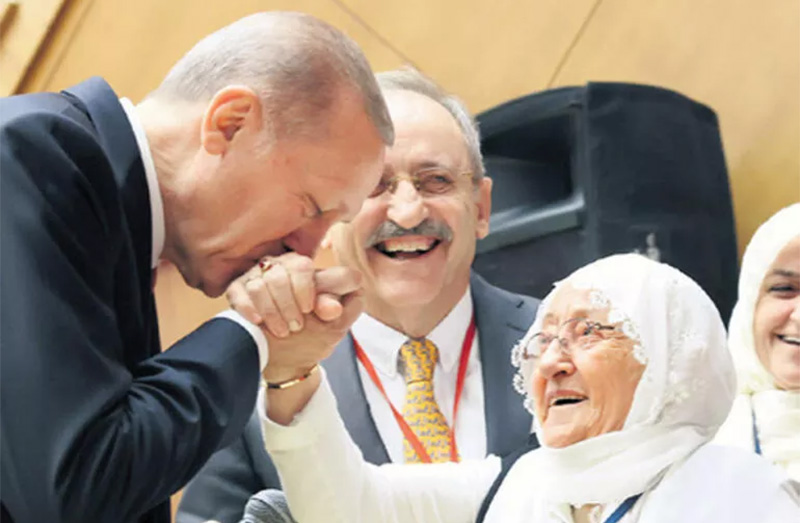 https://www.sabah.com.tr/gundem/2023/01/26/baskan-erdogani-evine-davet-eden-alime-teyze-emrin-olur-gelecegim-dedi
Aunt Alime, who invited President Erdogan to her home, said: 'I will come at your command'
The dream of Kenan Yavuz's mother Alime Yavuz, who was deemed worthy of the award at the Special Awards Ceremony of the Ministry of Culture and Tourism, to meet with President Recep Tayyip Erdoğan came true. Explaining her feelings when she saw President Erdoğan to SABAH, Alime Yavuz said, "I got very excited when I saw it, I cried. I've been wanting to see it since 2001. God bless you."
Aunt Alime, who invited President Erdogan to her home, said: 'I will come at your command'
The dream of Alime Yavuz, mother of Kenan Yavuz, who was deemed worthy of the award at the Special Awards Ceremony of the Ministry of Culture and Tourism, came true. Alime Yavuz, who loves President Erdoğan very much, said to Erdoğan, whom she has wanted to see for years, "Thank God I came to see you. I was going to bring Kete, they didn't let me, I'll make a kete when you come. Come quickly, I'll die, will I see you again?" said. In response, President Erdoğan promised to visit Alime Yavuz in Bayburt. Aunt Alime, whose dream came true, shared her feelings with SABAH.
I cried with excitement when I saw it
Yavuz said, "The chief held the hands of orphans and old people. Previously, we used to queue to buy medicine, now he went inside the houses. Is there a greater blessing than this? He cheered up our country, saved us from the enemy. He built a bridge to the sea, lifted all of Turkey to its feet, and valued it. "I prayed for him as much as I prayed for my servants. I was very excited when I saw it, I cried. I've been wanting to see it since 2001. May God give me good health. Before, we couldn't find rubber to wear, now we have pairs of shoes, whether poor or rich," he said.
HE SAID "I WILL COME ON YOUR ORDER"
Aunt Alime, who stated that they talked to President Erdoğan, said, "Mayor, I wanted to see you very much. I said I saw you even in my dream. Here, let me make a tandoori pot for you. Look, I'm here as an old man, I'm waiting for you too, I want you to come and see it. I said thank you very much. 3 times." He kissed my hand. I have been praying for him since 2001. He will come to Bayburt to eat Kete. I am 88 years old, I came, I saw him, he will come and see me. He promised. He said, 'I will come at your command.' Kete, water pastry, honey pie, curd As for the stuffing. There's a lot of stuff to cook." she said.