We reject peer pressure
27 January 2023
Posted by:

Muze Yonetimi

Categories:

Basında Biz, Duyurular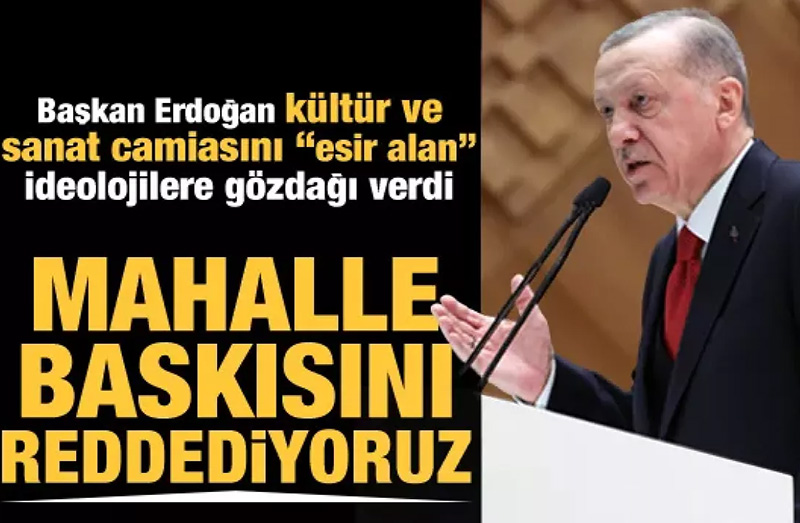 https://www.milliyet.com.tr/gundem/mahalle-baskisini-reddediyor-6893184
President Erdoğan said: "We reject the neighborhood pressure that standardizes Turkey's rich cultural climate. We believe that we will achieve greater success as a country as we break the chains of tutelage in the field of culture and art."
We reject peer pressure
ASLIHAN ALTAY KARATAŞ Ankara – President Recep Tayyip Erdoğan attended the Ministry of Culture and Tourism 2022 Special Awards ceremony held at the historical CSO Hall with his wife Emine Erdoğan. In his speech at the ceremony, President Erdoğan briefly gave the following messages:
AWARD WINNERS: Thanks to these awards, which have been given since 1979, we have the opportunity to pay a small debt of gratitude to our institutions, organizations and artists who have contributed to the culture and arts climate of our country. Gökyay Foundation Chess Museum is the first of the three organizations that were awarded and filled a huge gap in their fields. Our museum, which draws attention with its very rich collection, contributes to the promotion and spread of chess, especially among our youth. The second institution to be awarded the award is the Kenan Yavuz Ethnography Museum. Our museum, which reveals the issue of migration from the village to the city with all its aspects, also builds a bridge from the past to the present. I went, I visited, I saw, I also talked to him. Indeed, Bayburt had not seen such a work since it became Bayburt. With this understanding, our Ahi Culture Research and Education Foundation, our third award winner, has been trying to revive, keep alive and carry our Ahi tradition to the present day with all its aspects for 39 years.
WE DON'T DISCRIMINATE BETWEEN OUR ARTISTS: We protect everything that comes from these lands and belongs to us, and every piece of art that adds value to the cultural and artistic life of our country. We strive to support beauty, quality and success, never discriminating between art and our artists. We do not accept ideological approaches that confine art to certain patterns and certain impositions. In particular, we reject the neighborhood pressure that has taken our culture and arts community captive for many years and standardizes Turkey's rich cultural climate. We see that our world of culture, art and ideas become more diversified, liberated, and become more at peace with the values of the nation as we get rid of the neighborhood pressure based on ideological solidarity. Just looking at the successes of our movie series industry in the country and abroad in recent years clearly reveals what kind of aridity and what kind of backwardness the neighborhood pressure has condemned our country to.
100 NEW LIBRARY GOALS: As we break the chains of tutelage in the field of culture and art, we believe that we will achieve greater success as a country and nation. We also encourage this process by supporting all our branches of art and artists without separating them as traditional or modern. We implement a wide range of projects, from the elimination of infrastructure deficiencies to the construction of modern facilities. With our Atatürk Cultural Center that we brought to Istanbul, our Presidential Symphony Orchestra building that we put into service in Ankara, our Nation Congress and Culture Center, our Exhibition Hall, our 80 new cultural centers we built all over our country, in short, with our numerous works and services, we help art, artists and our culture be revived, protected and developed. We have shown our importance. Finally, we opened the Rami Barracks, which has an exceptional place in the history of our Istanbul with its 2 centuries old history, by transforming it into a library and cultural center. Thus, we are one step closer to our goal of welcoming the 100th anniversary of our Republic with 100 new libraries.
We reject peer pressure.
President Erdoğan chatted for a while with Kenan Yavuz's 88-year-old mother, Alime Yavuz, during the award presentation. Alime Yavuz said, "What did you not do to Turkey… I wanted to meet you so much, even in my dreams. You were wearing a star and crescent. I prayed a lot," while Erdogan kissed Alime Yavuz's hand.