Visit to the museum of the year from Governor Epcim and Deputy Battal
16 May 2021
Posted by:

Muze Yonetimi

Categories:

Basında Biz, Duyurular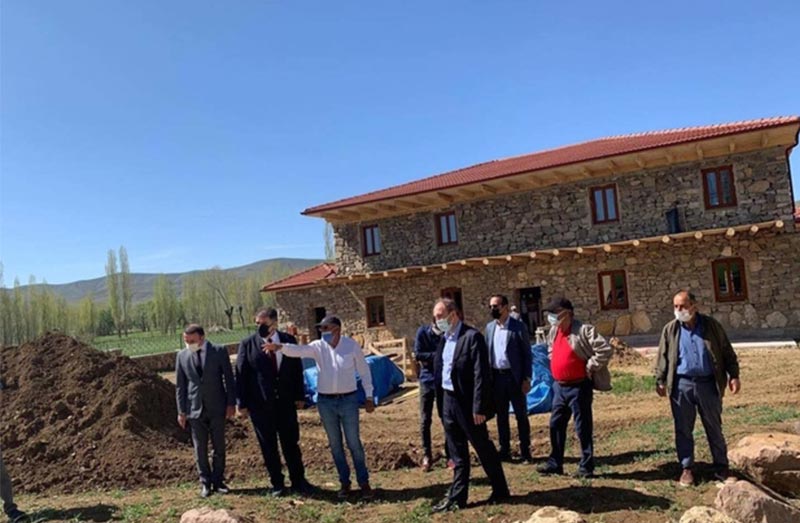 https://www.haberturk.com/bayburt-haberleri/87200362-vali-epcim-ve-milletvekili-battaldan-yilin-muzesine-ziyaret
Bayburt Governor Cüneyt Epcim and Deputy Fetani Battal visited Kenan Yavuz Ethnography Museum in Beşpınar village, which won the Silletto grand prize as the best in Europe at the European Museum of the Year Award (EMYA) competition organized by the European Museum Forum (EMF) and congratulated Kenan Yavuz and his family. they did.
Kenan Yavuz Ethnography Museum, which is the "Museum of the Year in Europe", won the Silletto grand prize, one of the 6 main categories in the process where the most prestigious museums of the world competed every year by the European Museum Forum, and created great excitement in Bayburt.
Museum founder Kenan Yavuz said, "The award we received was given to us for creating projects that make our cultural wealth visible and contributing to social and economic life by working with local people. The grand prize came to Bayburt for the second time. The European Museum Forum has awarded three museums from Turkey so far in its history, and two of these museums came out of Bayburt. Our Baksı Museum in 2014 and our Ethnography Museum in 2021 won the "Museum of the Year" award in their respective categories.
Our Bayburt Governor Cüneyt Epcim and our Deputy Fetani Battal, who supported us intensely in the process, visited our museum to share our happiness. We consulted on our "Loru Han" project and the future studies that were walking with them and talked about the need for more work as part of the responsibility imposed on us by the award ".
Kenan Yavuz said, "Due to the pandemic conditions, the 2020 awards were not announced and expected. When the pandemic extended, the results of the two years were announced together. In the process where nearly 200 museums competed across Europe, our Çanakkale Troy Museum for 2020 and Eskişehir Odunpazarı Museum for 2021 successfully represented our country and received honorable mentions. As Kenan Yavuz Ethnography Museum, we received the "museum of the year" grand prize in our category. There have been proud developments in terms of Turkish museology. We; From Beşpınar, a village in Bayburt; We are proud to be a concrete example of how we can reach the top in Europe by staying in Anatolia.
We have shown that the way to success is not by imitating others, but by adhering to our own ancient culture. From here, it is a great honor for us that our message from our village is internationally recognized and crowned with the world's most prestigious award. By staying, staying in Anatolia, we brought the beauty of our essence to the world. " gave his statements.