The Village Square of the Period is Revived in the Museum.
10 August 2020
Posted by:

Muze Yonetimi

Categories:

Basında Biz, Duyurular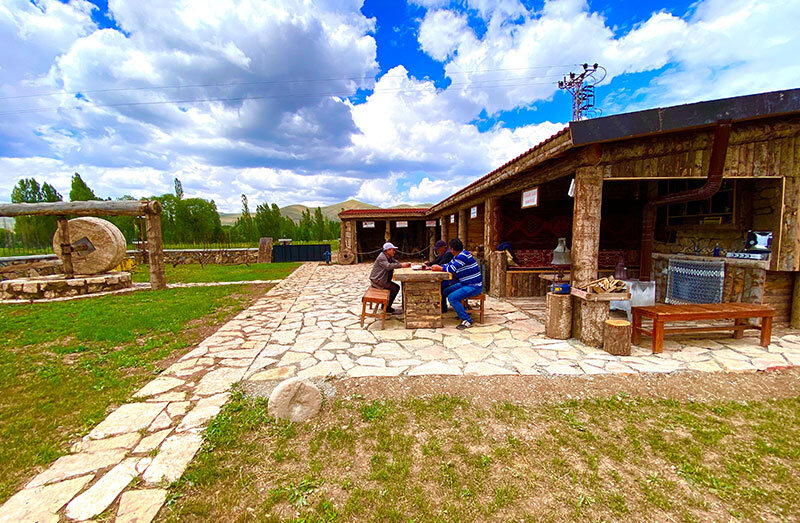 https://www.hurriyet.com.tr/se Seyahat/donemin-koy-meydani-muzede-canlandirildi-41577139
The village square of the years 1950-1980, which was included in the Kenan Yavuz Ethnography Museum, which was established by the businessman Kenan Yavuz from Bayburt in his village, draws attention.
Kenan Yavuz Ethnography Museum, which Kenan Yavuz was born and raised in Beşpınar village of Demirözü district, was registered by the Ministry of Culture and Tourism last year. The museum, which opens its doors this season with the "Scythe Mowing Festival" and occasionally includes events that revive village traditions, aims to keep the past social and cultural life alive, and to prevent the phenomenon of migration by showing that the villages are livable. The museum also features an image of Beşpınar village square between 1950-1980.
The carpenter Muharrem Yavuz, who was active in Yavuz's childhood and early youth, İhsan Tükenmez, the blacksmith and carriage manufacturer İhsan Tükenmez, the blacksmith Hacı Mehmet Sukes, the shoemaker Necdet Kıran, the tailor Faik and Sadık Yavuz brothers, the grocery store Hacı Sait Yavuz and the Upper Loru coffee and its owners their names are kept alive with the venues created in the museum. Within each venue, there are tools and equipment belonging to the periods it represents related to the business line.
"My aim was also to draw attention to vocational education"
Kenan Yavuz, the founder of the museum, told Anadolu Agency (AA) that they added the village square section to the museum this year in order to bring the beauties of Anatolia to the present and to build a bridge to the future. Yavuz stated that the places that were animated in the museum existed in their villages before and that they created this square based on the experiences here, and that this village square, where traditional shops are located, consists of grocery stores, shoemakers, tailors, blacksmiths, coffee shops, blacksmiths and carpenters.
Yavuz pointed out that village squares are a very important part of Anatolian culture and said, "They are places of cultural unification and integration where people meet after they come from their work, talk, talk about the next day's business. Village squares are surrounded by such shops and people see their shopping needs. on the other hand, they have a conversation. " said. Stating that his aim is to attract attention to vocational education and individual professional talents, Yavuz said:
"Vocational education should have an educational content that emphasizes individual talents as well as technology-oriented, because individual arts, professional arts, professions that reveal the original creativity of people should not be lost. It is not possible to get away from technology. We should teach our children technology to the end, but we should also teach traditional handicrafts to technology. We have to work in parallel. Therefore, my aim was also to draw attention to vocational education. "