President Erdoğan's 'culture-art' exit: We reject the neighborhood pressure that standardizes this climate
27 January 2023
Posted by:

Muze Yonetimi

Categories:

Basında Biz, Duyurular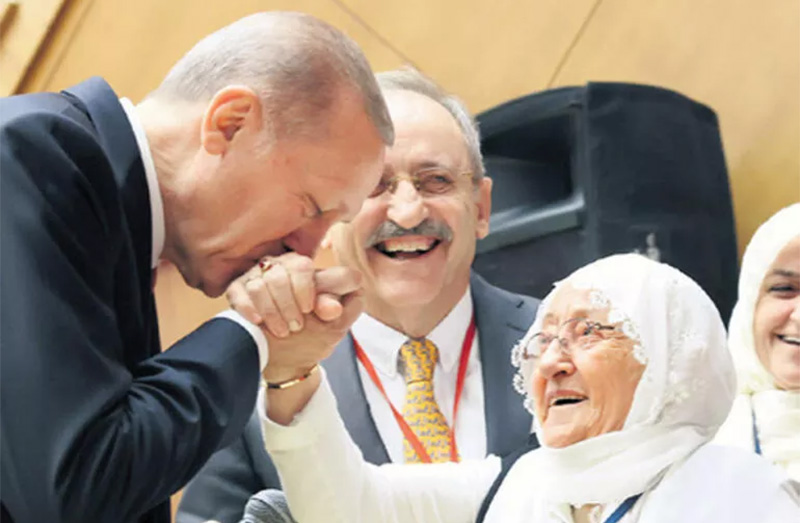 https://www.cnnturk.com/turkiye/cumhurbaskani-erdogandan-kultur-sanat-cikisi-bu-iklimi-tektiplestiren-mahalle-baskisini-reddediz
President Recep Tayyip Erdoğan said, "We do not accept ideological approaches that confine art to certain patterns and certain impositions. In particular, we reject the neighborhood pressure that standardizes Turkey's rich cultural climate, which has captured our culture and arts community for many years," he said.
President Erdoğan attended the Ministry of Culture Special Awards ceremony held at the Presidential Symphony Orchestra (CSO) Ada Ankara hall. Speaking here, Erdogan said, "Our young people, who are interested in different fields of culture and art, are inspired by those great masters and write their own success stories. Of course, the main thing is to know the value of skilled talent while they are alive. Respecting art and artists is not just by words, but by protecting the legacy that they entrusted to us. "We are trying to do exactly this with both the Presidential Culture and Arts Grand Awards and the special awards of our ministry. We also register the exceptional place that our culture and arts connoisseurs and our institutions have in the heart of our nation with the awards we conferred on the name of the state. These awards not only encourage our young people, but also make our values recognized in our country and in the world." It is also important. Every good work that is appreciated and awarded paves the way for new ones and is the herald of new projects."
'I CONGRATULATIONS TO THOSE WHO BRING THE CHESS MUSEUM TO OUR COUNTRY'
"This is the kind of sensitivity that has been acted upon when the owners of the Ministry of Culture and Tourism 2022 Special Awards are being determined," said Erdoğan and continued his speech as follows:
"We see that importance is given to the identification of our establishments that bring the culture and art life of Turkey together, especially the tradition and the future. Within the framework of the evaluations, the first of the 3 boards that were deemed worthy of an award and filled a really big gap in their own fields is the Gökyay Foundation Chess Museum. This museum was founded at the beginning of the 20th century. Our museum, which stands out with its rich collection, contributes to the promotion and dissemination of chess among our youth. I congratulate those who have brought the chess museum to our country, which it shares with all segments of our nation from 1970 to 70. I wish success in their work. I hope that with the sincere efforts of our museum, the interest in the sport of chess will increase throughout our country. Enan Yavuz Ethnography Museum. Our Kenan Yavuz Ethnography Museum is an original project that best reflects the culture of Bayburt, which leans back on Çoruh, turns its face to the east, and puts its roots in the fertile lands of Anatolia."
'SOCIETIES WITHOUT ENOUGH CULTURE AND ART LIFE HAVE FAILLED'
Expressing that the 3rd prize winner is the Ahi Culture Research and Education Foundation, Erdoğan said, "I also congratulate our Ahi Culture Research and Education Foundation, which enriches our cultural treasure with its wide range of activities. Every time we present the 2022 Special Awards of the Ministry of Culture and Tourism. On behalf of my country and nation, I would like to express my gratitude to our 3 institutions on behalf of my country and nation. I would also like to thank the Honorable Minister and his team and the esteemed members of our jury for protecting these cultural assets that have sprouted in different corners of Anatolia. Culture and art are the leading pillars that keep nations alive. A society, culture and art. It is as strong as its depth, wealth and accumulation in its field, it is persistent, it is resistant to the attacks it is exposed to. The permanence of the achievements in defense, military, economy, diplomacy and other fields also depends on culture and art. Societies whose cultural and artistic life is not sufficiently developed are advanced militarily and economically. Even if they were, they went out in a short time like a straw flame. Nations with a rich culture, an original and in-depth understanding of art, artists who will give direction and encouragement to society, intellectuals and people of heart, have always managed to rise up again and be reborn from their ashes, no matter what they live," he said.
'THE LAND OF ANATOLIAN PROVIDES US A TREASURE WITH ITS CULTURAL HERITAGE'
Emphasizing that the main reason why the Turkish nation has survived for centuries is its cultural depth, Erdoğan said:
"Only in the geography we live in, we have a deep-rooted experience of nearly a thousand years, nearly a quarter of a millennium being Seljuk, more than 600 years of Ottoman and a century of Republic. The borders of our cultural basin extend from the north of Africa to Central Asia, from Europe to the farthest corners of the Middle East. Anatolian lands, which have been the cradle of dozens of civilizations, offer us a treasure that is unique in the world with its cultural heritage.From Hatay to Mardin, from Istanbul to Diyarbakır