President Erdoğan made a statement at the Ministry of Culture and Tourism Special Awards Ceremony
27 January 2023
Posted by:

Muze Yonetimi

Categories:

Basında Biz, Duyurular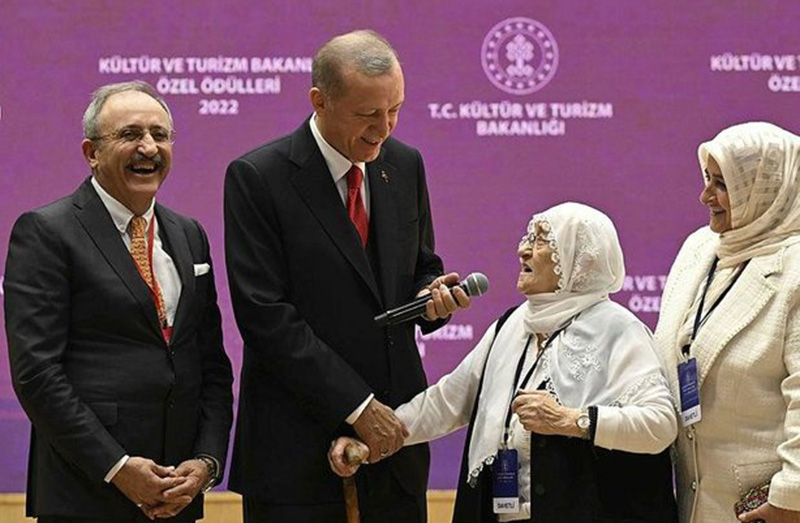 https://www.hurriyet.com.tr/video/cumhurbaskani-erdogan-kultur-ve-turizm-bakanligi-ozel-odulleri-toreninde-aciklamalarda-bulundu-42209215
President Recep Tayyip Erdoğan made a statement at the Special Awards Ceremony of the Ministry of Culture and Tourism. President Erdoğan said: "We reject the neighborhood pressure that standardizes Turkey's rich cultural climate. We do not accept ideologies that imprison art in stereotypes," he said.
Here are the headlines from President Erdogan's statements:
Thus, we expressed our gratitude to many values that have written their names in our history. Our young people, who are interested in the fields of culture and art, present their works by being inspired by the masters. These awards are important in terms of encouraging our young people, as well as their recognition in our country and in the world. This sensitivity was acted upon while determining the winners of the awards. Within the framework of the evaluations, the first of our 3 organizations is the Gökyay Foundation Chess Museum. Our museum, which draws attention with its rich collection, contributes to the spread of chess among our youth.
The second of our establishments is the Kenan Yavuz Ethnography Museum. It is an original project. Our museum builds a bridge from the past to the present. I went, I visited, I saw, I also talked to him. Bayburt He had not seen such works since he became Bayburt. I congratulate everyone who contributed to our national culture. The Ahi organization is the guarantee of the brotherhood of our nation. The third prize winner is the Ahi Culture Research and Education Foundation. I would like to express my gratitude to the 3 institutions to which we will present the awards. I would also like to thank the esteemed members of our jury.
Culture and art is one of the pillars that keep nations alive. The permanence of the gains in the defense economy and other fields depends on culture and art. Nations with a rich culture and people of heart have always succeeded in rising from their ashes, no matter what they live. Today, winds are blowing in the place of many states called indestructible. But societies that have made a breakthrough in culture, science and art are still standing tall. It is our cultural depth that we can survive as a Turkish nation. Anatolian lands, which have been the cradle of dozens of civilizations, offer a unique treasure. Whichever city we go to, we come across a work that amazes people. As a country and as a nation, we are sitting on magnificent history.
"WE ARE SEEING OUR CULTURE IS Liberating"
As the government, we have taken important steps in the light of these truths. We seek to support success without discriminating between art and our artists. We reject the neighborhood pressure that standardizes Turkey's rich cultural climate. We do not accept ideologies that imprison art in stereotypes. We see our culture liberating. Just looking at the successes of our cinema series industry in recent years reveals that the pressure of the neighborhood is doomed to backwardness. We encourage this process by supporting our arts and artists, without separating them as traditional or modern. With our Atatürk Cultural Center, which we brought to Istanbul, and our 80 new cultural centers, we have shown importance to art and artists. We turned the Rami Barracks, which has a place in the history of our Istanbul, into a library and cultural center and put it into service.
We attach importance to protecting our common values, which represent the unity of our nation. We declared 2023 as the Year of Mevlana. We will commemorate Mevlana together with the programs to be organized throughout the year. We will work hard to make love prevail instead of hatred. I expect all our institutions, especially our Ministry of Culture and Tourism, to make the necessary effort.