Minister Ağbal at Beşpınar
6 July 2015
Posted by:

Muze Yonetimi

Category:

Duyurular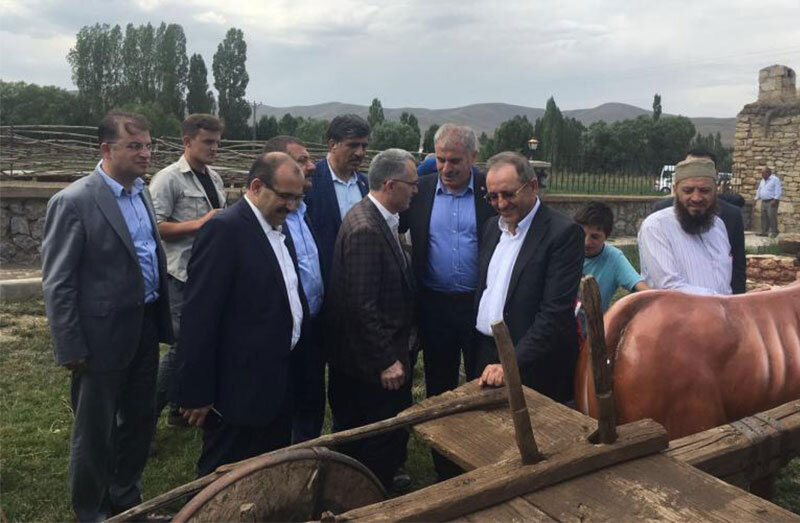 The 7th BEDKER Honor Awards found their owners. The honor awards night, organized for the seventh time this year, was once again the scene of special and colorful scenes.
Five names were awarded for their services to Bayburt at the night held at the Poet Zihni Cultural Center. The late artist Mustafa Ahıskalıoğlu, Educator Prof. Dr. Arsi Çubukçu, former Mayor of Bayburt Ali Bilen, Businessman Kadir Arpalı and World Arm Wrestling Champion Tuncay Başaran were the names awarded.
Emir: "Societies that do not have value cannot have a future"
Speaking at the ceremony with the presentation of Mehmet Öksüzer, BEKDER President Mete Emir emphasized that Bayburt's human quality is superior to all other values ​​and said, "The honor awards program, which we have held for the seventh time this year, is the organization we are proud of since the foundation of our association. They cannot raise value, and societies that do not have any value cannot have any future. We are really touched when we compile the life stories of valuable names that we give honorary awards every year and prepare them as short films. We see once again how many good people we have in this country. "It has a value that is superior to all its values, which is human quality. Fortunately for him, there is Bayburt, there are people from Bayburt." Emir thanked the executives of the association who contributed to the preparation of the night.
Yavuz: "We need to reveal the historical and cultural texture"
President of SOCAR Turkey and also BEKD is Yavuz President Kenan Honor Committee, drawing attention to construction crooked Bayburt in his speech, a land he will donate to make the Polisevi located next to the hospital in case of collapse of Polisevi building, which is illegal. Saying that BEKDER's honor awards night is now institutionalized, Yavuz said, "It is a feature that we all have to do to highlight, promote and take them as an example, taking into account the proverb 'forgiveness is subject to compliments'. Therefore, to carry this structure to many years in an institutional way. "This is the importance of civil society. It is necessary to support non-governmental organizations and contribute to their production of new projects." Expressing that Bayburt had a historical opportunity, Yavuz said, "We know the love of our President and our Prime Minister for Bayburt. Therefore, he sent a very valuable bureaucrat to Bayburt as a deputy and later became the Minister of Finance. The most valuable minister of the government is now from Bayburt. Taking advantage of the opportunity, all our public institutions and especially our municipality and non-governmental organizations need to produce projects related to Bayburt as soon as possible. We need to define what we should want so that we can provide the flow of resources to Bayburt. Otherwise, the days pass too fast. We may miss this historical opportunity, "he said. Drawing attention to the historical texture of Bayburt in his speech, Yavuz said: "First of all, what we need most is to bring Bayburt together with its historical and spiritual texture. To get rid of these ugly structures, first of all, starting from public institutions. Especially the illegal structure of our police house should be removed. If this police house is demolished, I have a land there, I will donate it to build a police house, as long as that ugly structure is removed. Under the leadership of the government, the buildings that spoil the cultural fabric of this city should be eliminated. We, as a society, have to put pressure on this. This is a Turkish homeland. None of us have the right to make this place. This is not the spiritual heritage that our ancestors left us. We need to get rid of this hunchback. we all have responsibilities and no one is more no less guilty. What kind of an intellectual structure is to equip Martyr Osman Hill with a concrete pile, I cannot understand. This does not suit Bayburt. "Yavuz also mentioned the film project that will be realized within the body of BEKDER and shootings will begin in the summer period," 90 percent of the feature film will be shot in Bayburt. All registration rights of the film will belong to BEKDER. I am covering most of the costs of the film. Hopefully, if it comes, that income will cause the association to sign other projects. Of course, the movie is quite a budget. I state that government support is necessary for this, and we expect support from all our public institutions. "Following Yavuz's speech, presentations were made on the lives of the awarded names.
Knowing: "I thought about Bayburt's interests"
The first award at the night was given to the former Mayor of Bayburt, Ali Bilen. Ali Bilen, who was sick and hardly appeared on the stage, said in his speech after receiving his award from Bayburt Governor Yusuf Odabaş: "I was very touched. I went here by force. As God witnessed, I did not think of anything about me. Bayburt's interests. I always acted in the direction of culture.