Kenan Yavuz Receives His Award From President Erdoğan
27 January 2023
Posted by:

Muze Yonetimi

Categories:

Basında Biz, Duyurular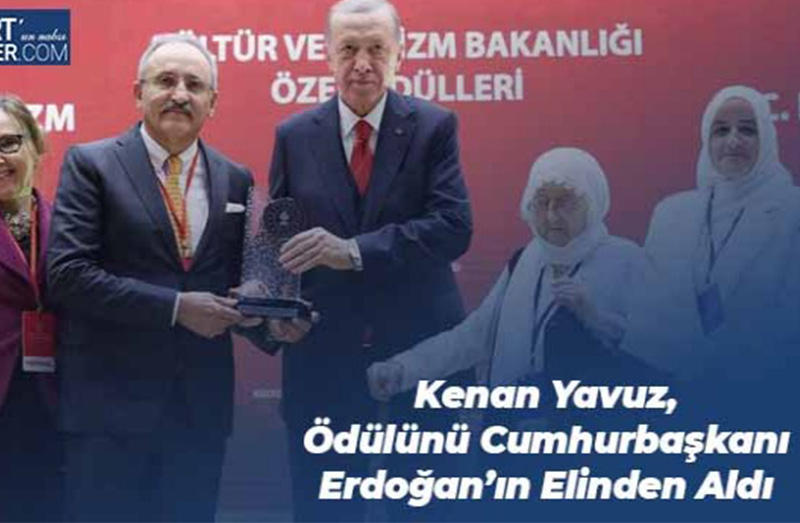 https://www.bayburthaber.com/haber/kenan-yavuz-odulunu-cumhurbaskani-erdoganin-elinden-aldi-3182
Kenan Yavuz Ethnography Museum received the 2022 Ministry of Culture and Tourism Special Award from President Recep Tayyip Erdoğan.
Kenan Yavuz Ethnography Museum in Beşpınar village of Demirözü district of Bayburt, selected as the museum of the year in Europe by receiving the Silletto Grand Prize given by the European Museum Forum in 2021 and winning the European Union Cultural Heritage Europa Nostra award in 2022, was awarded the 2022 Ministry of Culture and Tourism Special Award. was awarded. President Recep Tayyip Erdoğan presented the award winners with their awards at the ceremony held in the Presidential Symphony Orchestra Concert Hall.
At the ceremony, President Recep Tayyip Erdoğan said, "Our Kenan Yavuz Ethnography Museum is an original project that leans back on Çoruh, turns its face to the east, and puts its roots in the fertile lands of Anatolia, reflecting the culture of Bayburt in the best way possible.
Our museum, which reveals the issue of migration from the village to the city with all its aspects, builds on a bridge from the past to the present. I hope that this beautiful museum, which shows the loyalty of our brother Kenan Yavuz to the land where he was born and grew up, will set an example for other entrepreneurs and business people with similar life stories. I went, I visited, I saw, I also talked to him. He actually said to our Bayburt, "Bayburt has not seen such a work since Bayburt has been around. I congratulate everyone who has contributed to the Ethnography Museum for their contribution to our national culture and the development of the Bayburt region." Erdogan kissed Alime Yavuz's hand and promised to come to Bayburt. President Erdogan's conversation with Alime Yavuz, mother of museum founder Kenan Yavuz, garnered great sympathy. Kenan Yavuz's mother, Alime Yavuz, for what she brought to the country
While thanking President Erdoğan, Erdoğan kissed Alime Yavuz's hand. Kenan Yavuz's mother, Alime Yavuz, expressed her love for President Erdoğan and said: "He built a bridge to the sea and held the hands of the patients. We were getting in the queue and taking medicine, now the medicines came into the house. Imam preachers were closed and opened it. I wanted to see you very much, God bless He said. President Erdogan hung up on why he didn't come and promised to come to Alime Yavuz. In addition, Erdogan replied, "The airport is coming to Bayburt Gümüşhane."The ceremony held at the Presidential Symphony Orchestra History Hall; President Erdoğan and his wife Emine Erdoğan, as well as Vice President Fuat Oktay and his wife Hümeyra Oktay, Minister of Culture and Tourism Mehmet Nuri Ersoy, Deputy Ministers of Culture and Tourism Özgül Özkan Yavuz, Ahmet Misbah Demircan, Bayburt Governor Cüneyt Epcim, Deputy Fetani Battal and Mayor Hükmü Pekmezci also participated.