Greetings from Bayburt Alime Nine to President Erdogan
27 January 2023
Posted by:

Muze Yonetimi

Categories:

Basında Biz, Duyurular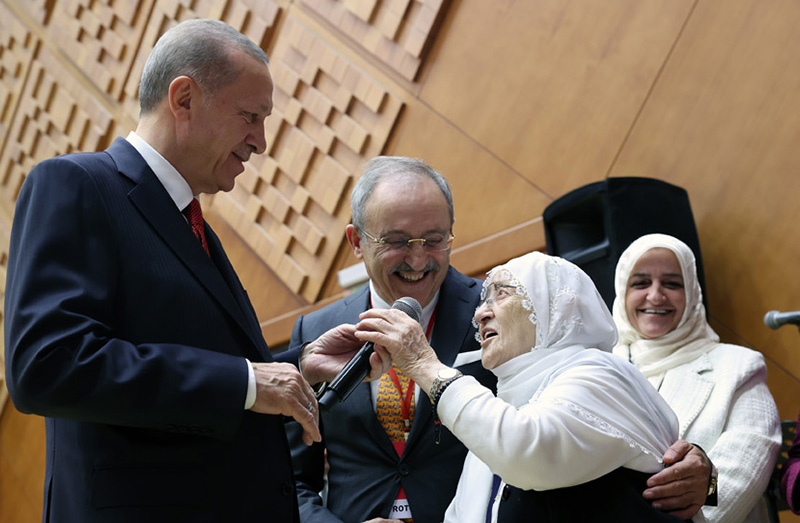 https://www.yenisafak.com/hayat/bayburtlu-alime-nineden-cumhurbaskani-erdogana-ovgu-dolu-sozler-4502344
The dream of 88-year-old Alime Yavuz, who wanted to see President Recep Tayyip Erdoğan before she died, came true. Alime grandmother, who spoke laudatory words to Erdoğan, said, "You will come to Bayburt too." Kissing Yavuz's hand, Erdogan replied, "Your order will be given."
President Erdoğan promised to go to Bayburt by kissing the hand of Granny Alime.
President Recep Tayyip Erdoğan attended the 2022 Ministry of Culture and Tourism Culture and Arts Special Awards Ceremony yesterday. Making important statements here, President Erdoğan presented the awards at the ceremony. While Kenan Yavuz Ethnography Museum was giving an award, Kenan Yavuz's 88-year-old mother, Alime Yavuz, also took the stage.
Alime Nine from Bayburt, whose biggest dream was to see President Erdoğan before she died, had the opportunity to chat here.
'GIVES GLORSE TO TURKEY'
Then, saying words of praise to President Erdogan for what he brought to the country, Yavuz used the following expressions: What hasn't he done to Turkey? He built a bridge over the sea, erected a pole in the sky, He held the hands of the poor, he held the hands of the sick. Then we were in the queue, we were taking medicine. The drugs have arrived. Imam-hatips were closed, opened. He gave glory to Turkey. After the words that were applauded in the hall, President Erdoğan kissed Alime Nine's hands.
'YOU WILL COME TO BAYBURT'
Alime Yavuz from Bayburt continued her words as follows: I wanted to see you very much. My prayers came true, I prayed a lot. He gave glory to our village. He held the hands of the elders. He held the hands of the poor. They didn't put it so I could bring it to the kettle. I'll wait for you in Bayburt. You will also come to Bayburt. May God give you health.
HE PROMISED
Thereupon, President Erdogan promised to go to Bayburt and said, "Your order." said.