'Boning' event at Kenan Yavuz Ethnography Museum
29 June 2020
Posted by:

Muze Yonetimi

Categories:

Basında Biz, Duyurular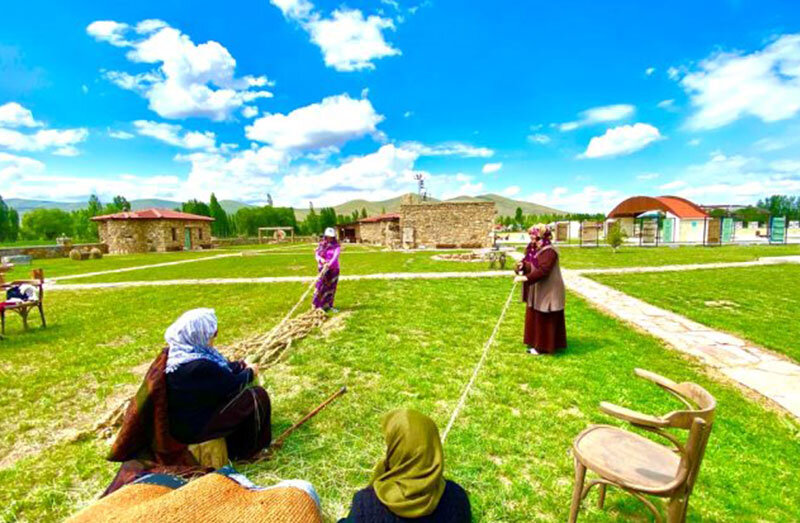 https://www.karar.com/kenan-yavuz-etnografya-muzesine-kem-egirme-etkinligi-1571834
Kenan Yavuz Ethnography Museum in Beşpınar village of Demirözü district of Bayburt hosts a different event every week.
The new season started with the "Scythe Mowing Festival" last week, and the "Kem Spinning" event was held on the weekend at the museum.
Within the scope of the event, the herbs cut by the visitors were combined and transformed into a rope called "kem", which is frequently used in the villages in the region.
Kenan Yavuz, President of Kenan Yavuz Cultural Foundation and founder of the Ethnography Museum, told Anadolu Agency (AA) that the aim of the museum is to keep the beauties of Anatolia alive in the minds of young people and to prevent the phenomenon of migration by showing that the villages are livable.
Noting that the state has reached every corner of Anatolia in all fields of infrastructure, health and education, Yavuz continued as follows:
"The continuation of the phenomenon of migration is no longer meaningful. The infrastructure required for everyone to be fed is ready in the land where they were born. There was nothing at the time when our generation left these lands. There was no road, there was no hospital, there was no school, there was no electricity, but migration was necessary due to the high population density. Industrialization and urbanization. It was a necessary process. Now the socioeconomic reasons of internal migration have disappeared. " said.
Saying that he draws attention to the problem of internal migration with the museum he built in his village, Yavuz said, "We aim to bring a new dimension to museology in the ethnographic sense by realizing the concept of living museum. We aim to offer our visitors an atmosphere where they will not only see the exhibits, but feel by reliving their experiences." said.
Noting that the problem experienced by humanity during the pandemic process reminds that it is necessary to reshape the world, Yavuz said that a more simple, integrated with nature, unique and local beauties and experiences should be realized.
Yavuz stated that with this understanding, they opened the doors of the museum with the "Scythe Mowing Festival" and then they organized a "Boning" event, and that they would also organize different events and try to keep the beauties of Anatolia alive in the minds of young people.