An exemplary project for our city
31 December 2020
Posted by:

Muze Yonetimi

Categories:

Basında Biz, Duyurular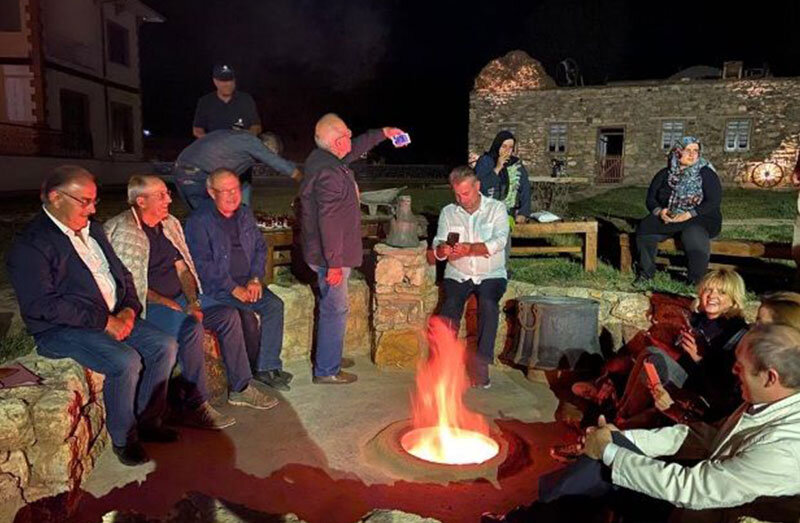 https://www.cagdaskocaeli.com.tr/haber/5932044/kentimize-ornek-nitelikte-proje
Kenan Yavuz Ethnography Museum, founded by business person Kenan Yavuz in Beşpınar Village of Bayburt, became a finalist in the "European Museum of the Year Awards" competition. This museum, which can be an example to our city, gives the opportunity to experience cultural heritage and traditional production.
The history of Kocaeli goes back to ancient times. In the early ages, the cities established in the region called Bithynia were named Olbia, Astakos, Nicomedia, Iznikmid, Izmid and Kocaeli, respectively. However, in Kocaeli, which has a rich history and cultural heritage, it cannot be said that this heritage is protected enough. The Ethnography Museum, which was brought to life by businessman Kenan Yavuz from Bayburt in his village where he was born and raised, is an example that all the dynamics that govern our city should go and see on site. However, our possibilities are more, but not used. For example, there is the History Corridor, but only how many of those living in this city went there and saw it, it is discussed. For example, Santa Barbara, considered to be the "first saint" in the Christian world, is remembered with the rituals held every year on the historical walls believed to have been imprisoned in Izmit, but efforts are not enough to revive religious tourism. On the other hand, we have museums, but these museums need to be opened to visits and further revitalized, apart from school visits.
FLOOD OF VISITORS
While this is the case in our city in general terms, the Ethnography Museum in the village where Bayburt businessman Kenan Yavuz was born and grew up is flooded with visitors. Established over 15 thousand square meter area of ​​Turkey's biggest open-air museum hosted 12 thousand visitors of the tourist season. Kenan Yavuz Ethnography Museum, registered by the Ministry of Culture and Tourism in 2019, is located in Beşpınar Village, 40 kilometers from Bayburt city center and 14 kilometers from Demirözü district. The museum, built in an area of ​​approximately 15 thousand square meters, displays images of all buildings and objects in the relationship between time and space between 1950-1980. In the museum where village traditions are revived, it is possible to see all items and places that symbolize the social and cultural life of the past years.
OLD PROFESSIONS ARE SURVIVING
The goals of Kenan Yavuz Ethnography Museum are to prevent the phenomenon of migration from villages to cities and to prevent architectural damage in the villages and to pass on to the new generations by keeping the mothers and traditions that are about to be forgotten. In the museum, there are traditional stores such as a grocery store, shoemaker, tailor, blacksmith, coffee shop, blacksmith and carpenter. It also consists of a village house, water mill, amphitheater and open air cinema, Dede Korkut Turkish identity library, tandoori, soup kitchen, masjid, swing, bird house.
COUPLES EXPERIENCE NOSTALGIA
Kenan Yavuz Ethnography Museum, which offers fairytale scenes to its guests with its visuality, occasionally includes bride and groom candidates among its guests from time to time. The couples who choose the Ethnography Museum for the photos they will keep for a lifetime, make an effort to capture the best photo frames in nostalgic places. Loru Han project, where they can meet their accommodation needs at Kenan Yavuz Ethnography Museum, which was visited by 12 thousand people during the pandemic, will be operational in 2021.
THIS SEASON 12 THOUSAND VISITORS
Kenan Yavuz, the founder of the museum, said, "Our museum has reached an area of ​​15 thousand square meters. 4 thousand square meters of closed area, 11 thousand square meters of garden area. The garden area can be visited as an open-air museum. Therefore, our visitors can move freely. We did not encounter any disease in the pandemic. We hosted 12 thousand visitors during this tourism season. The decrease in the population of Anatolia and the enthusiasm of our population in the villages for the city disturbed me. I want to show people that village life is a beautiful life. If we cannot improve the quality of social life in our villages, in Anatolia, we cannot prevent population growth in these metropolises. I think people should be satisfied where they are born. "I had this museum built as a stance against the concreting of our villages, the collapse of our mansions, the absurd construction of fountains and bridges in the name of modern life."
AMONG EUROPE'S FINALISTS
Kenan Yavuz said, "The international acceptance of the museum, which we established with the aim of carrying the beauties of Anatolia, which is about to be forgotten, to the present and the future, has been a proud and encouraging development for us."
Established in 1977 to develop museology under the auspices of the Council of Europe, to contribute to, promote and encourage institutional and professional structures, and to make original museums visible, the European Museum Form / European Museum of the Year Awards are the Kenan Yavuz Ethnography Museum, which brings a new approach to ethnography museology. Determined the year 2021 among the finalist museums in Europe. Serving as a cultural house for about 6 years, the place has completed its development to a great extent and gained the status of "Official Private Museum" in 2019.
"OUR GOAL IS TO MAKE A TRANSFORMATION IN MUSEUM"
Of the museum.