Our Story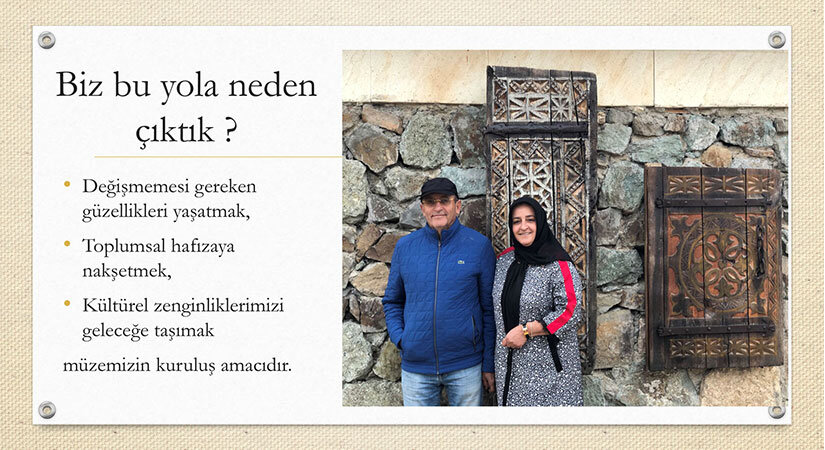 KENAN YAVUZ ETNOGRAPHY MUSEUM FOUNDATION PURPOSE, MISSION AND VISION
Our museum, which was built in an area of ​​8000 m2 in Bayburt Province, Demirözü District, Beşpınar Village, has been built in integration with all the structures in the relationship of time and space, the texture and architectural structure of the region. The stones and wood used were collected from destroyed houses and mountains in the surrounding villages. Within our museum;
Village House, Water Mill, Bezir Oil Mill, Amphitheater and Open Air Cinema, Village Square, Dede Korkut Turkish Identity Library, Masjid, Tandoori, Permanent Çinimaçin Exhibition Area, Indoor Exhibition Halls, Open Exhibition Areas, Swing, Bayburt Pigeon Bird House, It consists of Ashane, Gecekondu and Konak.
Our museum uses the living museum concept as a motto and aims to preserve the "old life" and make it visible in the "new life". It has adopted the mission of creating an awareness against the architectural damage caused by the transformation that started with modernization and migration in our villages, keeping the beauties of the traditional life, which is about to be forgotten, alive in the minds of new generations and bringing people forward.
Traditional local culture, which is about to be forgotten, children games, fairy tales, promotion of endemic plants, mouth bar tradition, wedding and henna traditions, examples of cooperation with the method of cooperation, the culture of cohesion and sharing are tried to be kept alive with activities carried out in a systematic integrity. In this context;
Scythe mowing festival, Tandır Festival, Harman Festival, Kem spinning festival, Bayburt Folklore Clips series, Bulgur making festival, activities held in the summer of 2020 within the constraints of the Pandemic. The same activities will be expanded and continued in the coming years.
The lived stories are displayed through real people and their belongings. Thus, the experiences of the visitors in their own family environment are highlighted as the basic presentation. With the slogan "Who come to us, live us", the visitors are introduced to the local culture, and unique examples of Bayburt folklore are presented to the visual and emotional perceptions of the visitors.
The content of the living museum provides an atmosphere for visitors to feel the presentations by experiencing them personally. Those who wish can burn a tandoor and bake bread, watch movies outdoors at movie nights, read books in the library, pray in the mosque, and grind flour in the water mill. The shops where traditional arts are performed in our village square provide the opportunity to chat in a journey to the past, iron can be beaten in the blacksmith shop, and tea can be enjoyed in the village coffee shop. The tradition of the mouth bar can be performed on the earth roof of the village house, and a village wedding can be held in front of the bride climbing the bride's pole.
We defined the realization of the relationship between time and space with the slogan of "living museum" as our basic vision.
The Dede Korkut Tales Festival, planned together with bureaucratic interlocutors such as related non-governmental organizations, the Governorship of Bayburt and the Directorate of National Education, the choir and traditional children's games festival established in secondary education institutions throughout Bayburt will be the main activities of the coming period.
regards
Kenan Yavuz
Kenan Yavuz Cultural Foundation President and Founder of Ethnography Museum